The National Exchange Club is the only service organization exclusively serving communities in the United States. More than 650 local clubs throughout the U.S. and Puerto Rico provide individuals with opportunities to use their time and talents to benefit their local communities and the country as a whole. Exchange's Core Values are family, community, and country.
Through the Programs of Service – Americanism, Community Service, and Youth Programs – members support activities that benefit youth, promote pride in our country, and honor military and public service providers, to name a few. Exchange's National Project is the prevention of child abuse.
Exchange was founded March 27, 1911, in Detroit, MI, by a group of business executives who wanted simply to exchange ideas. Those ideas grew and were shared, and have resulted in innumerable benefits to the nation.
Currently, Exchange has nearly 20,000 members in the U.S. and Puerto Rico. The organization's National Headquarters, located in Toledo, OH, acts as a resource to local-level clubs and its members.


The Exchange Club of Hanover thanks everyone for their support, especially all the sponsors & volunteers that made our 20th Anniversary 9/11 Healing Field® so successful.
THANK YOU!!!!
---
FLAGS ARE STILL AVAILABLE TO SPONSOR

To sponsor a flag or make a donation for the 20th Anniversary 9/11 Healing Field®, download the form below, print it, fill it out and mail to Sue Wineholt at the address on the form or give it to a Club member.
A Special thank you to our Top Level Sponsors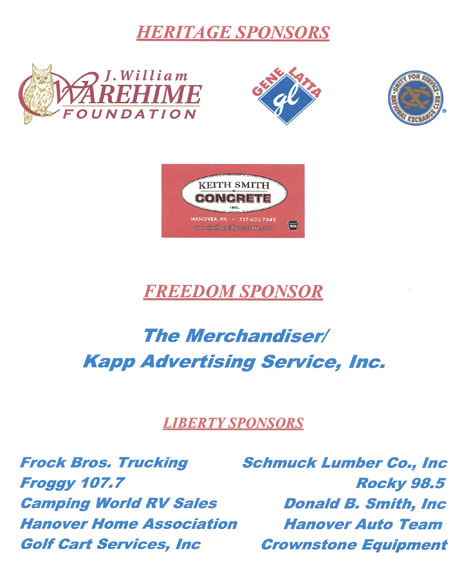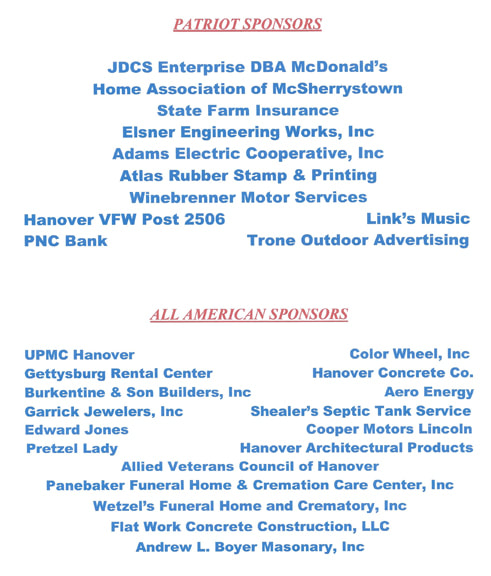 ---

UPDATE: ALL TICKETS (1000) ARE SOLD IN OUR GUN RAFFLE AND WE HAVE HAD 23 DIFFERENT NUMBERS DRAWN
DRAWING RUNS THROUGH FEBRUARY 2022
18 More Chances to WIN!!!!!
Contact Bob Etzler at 717-630-1037
Updated 12/7/21 4:35 PM

THANK YOU TO ALL WHO BOUGHT TICKETS AND SUPPORTED THIS NEW FUNDRAISER
WHO WE ARE
VISION: A strong America, safe communities, and unified people.
MISSION: Exchange, inspiring communities to become better places to live.
CORE VALUES: Family, Community, and Country.
MOTTO: Unity for Service.